| | |
| --- | --- |
| Hair and Makeup | |
Makeup Tips

The most important tip we can give you is to ALWAYS get your makeup done by a professional. With all the other things you have to think about on your day, the job of making you look your most beautiful is well worth being delegated to someone else. It is also worth baring in mind that professional makeup artists can make your face look as natural as you like, yet still suitable for being pictured.
You can plan your look for the day weeks in advance with your chosen makeup artist by setting up a consultation followed by a "dress rehearsal" where you get given your final look. Remember to keep in mind the colours you know look best on you and the color of your dress - don't get pressurised into wearing colours you are not happy with.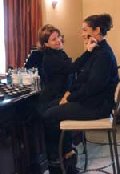 If you are determined however, to do your makeup yourself then perhaps the following tips may help!:
Use a foundation close to your natural skin colour and blend it in thoroughly to avoid a colour difference between your neck and face.
Apply a powder lightly to your face and neck to keep your foundation from slipping.
Line your eyes with a brown or charcoal grey kohl eye pencil and blend from the sockets outwards. This will give your eyes a softer appearance in pictures.
Avoid frosted eyeliner or eyeshadow as this does not photograph well as it catches the light from flashes.
Curl your eyelashes and apply brown or black mascara to open your eyes up.
Carefully and subtly line your lips with a pencil before applying lipstick as this will stop your lips from 'bleeding'.
Always wear a waterproof mascara as you may get emotional during the course of the day!
Keep an emergency bag with mascara, lipstick and powder close by for last minute touch-ups.
Keep the makeup simple. Start with what you would normally wear and then gradually add to it remembering that you should try to look classy rather than clubby!
Only wear the makeup look that makes you feel comfortable and happy.
Practice, practice and practice some more.
Hair Styles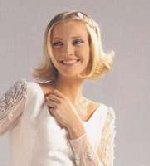 Choosing your hairstyle for your wedding day can be a stressful task. Bad-hair days are bad enough on your average day but on your wedding day would be disastrous!
A stylist should be able to help you choose the right style for your face and dress but before choosing a stylist, study wedding and hair magazines, find pictures of hairstyles that you like by looking for pictures of people with a similar hair length to your own.

At your first appointment with your stylist, remember to take along the pictures you like and your headpiece or hair accessories. Talk about the style of your dress, its neckline, any veil and your headpiece, the shape of your face and the length of your hair. Once you are happy with what the stylist has recommended, then make two further appointments; one as a trial run and one for the wedding day! If you can find a stylist or salon that provides makeup as well then it will save time on the day.
If your final style includes having your hair cut and/or coloured then make sure you get this part done two to three weeks before the wedding to allow time for any mistakes to be corrected!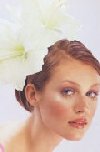 Tips
Avoid big hair! Go for something sleek, stylish and simple.
When you think about the style think about the dress. Make sure that everything balances: If your dress is simple and perhaps a straight A-line, then keep your hair neat and simple too. If you have a larger gown, then soft flowing curls, a more relaxed style would suit.
Think about the time of day the ceremony is taking place. If it's taking place during the day, then flowers and veils in the hair would suit. For late afternoon and evening ceremonies you could bring a bit of glitz and glamour with tiaras.
Your hair should reflect your personality and style – don't go for something that your husband-to-be or your guests wont recognize as being 'you'.
If your hair is long then why not pile it all elegantly onto the top of your head, incorporating details from your gown into your accessories.
If you have long hair but feel uncomfortable wearing it all up, then try securing some of the front section whist letting the remaining rest on your shoulders, with a few tendrils to shape your face.
If your hair is naturally curly then don't hide your curls! Whether you have your hair up or down, use soft curls to shape your face.
Avoid curling naturally straight hair as it has a tendency to drop before the day is out.
If you have shoulder length hair that doesn't really want to be worn up or down, then dress it up with a tiara that can also be used to keep the majority of your hair away from your face.
If your hair is too short to wear up, don't panic – just plan ahead and grow it out for a few months – you can always get it cut nearer the wedding day if you change your mind, but give yourself the option.
If you have short hair then use hair accessories to change your style rather than leaving it as you have it everyday.
If your dress comes with a matching hairpiece, you don't have to wear it. Don't feel pressured into purchasing a hairpiece or veil either if you don't want one because it really is your choice. Instead look for a detail from your dress and enhance that in your hair e.g. pearls, or flower details can be easily matched with clips or hair-ties.
If you are wearing your hair down, deep condition it every week in the run up to your wedding to help it look luxurious and healthy!